10 Strong Drone Startups to Watch in 2017-2018
The drone industry is strong, moving rapidly, creatively and dynamically. Many successful drone companies start small and quickly become sought after entities by all types of businesses and venture capitalists. The trend doesn't appear to be letting up. We're excited at what the current drone community and the millions of new fliers can look forward to as the tech continues to explode and these strong drone startups wrestle to outdo one another for our business.
Our List of the Top 10 Drone Startups
Drone companies continue to pop up all the time, feeding many a dreamer's fast growing craving to fly. The industry turns out new models constantly with each generation featuring greater advancements in tech, giving us broader resources for going into the air for adventure, and even for capturing and sharing imagery with the finest aerial photo equipment you can get your hands on.
We often like to look at the companies that we expect to make the biggest moves in the industry and in drones. We've rounded up the 10 drone companies that we believe are going to be major game changers over the year and well beyond.
GoPro
GoPro is already one of the most regarded producers of action cameras in the world. Now, they're about to launch their first proprietary camera drone, Karma. Many fliers already use a GoPro with their drones and the idea the company is producing a device of their own is creating quite the industry buzz.
Lily Robotics
Lily Robotics's first drone was flying off the virtual shelves before it was even launched. What's been noted is that a majority of buyers will be first time fliers, many of whom plan to use the drone for family affairs as opposed to action or professional operations.
DJI
Though they've been in the game a while, the drone community continues to wait for the company's next move. Between the Mavic Pro and the Phantom 4, DJI has redefined what camera drones are capable of. Everyone wants to know what's next.
Dronesmith Technologies
Dronesmith doesn't want to create drones. They intend to promote the application development process by supporting innovators and developers, providing them with resources. Their business plan could have a significant impact on how new companies build their models.
Kespry
Kespry is focused on drones for surveying, aerial mapping and other industrial productions. Their Drone 2.0 has automated flight and operates in winds of 25 mph and gusts of 35 mph. By targeting an unique niche, the company created a model that other drone companies will likely follow.
Vires Aeronautics
Aimed at supporting water management, infrastructure monitoring, agriculture, environmental protection and other industries, Vires Aero plans to increase endurance and payloads on drones. The goal is to use smaller drones for bigger tasks.
SkyCatch
After Nepal's devastating 2015 earthquake, SkyCatch products were used to map and analyze damage. It is believed this work saved thousands of lives and prevented more disasters. The drones returned information that got rescue teams in place faster than ever. With intelligence over recreation on the agenda, governments have SkyCatch on speed dial.
Squadrone System
Squadrone System started out as a Kickstarter project. After raising $1.3 million, the company released Hexo+. Hexo+ is a smartphone-controlled hexacopter with tons of features for capturing action. A year later, a real estate company gave Squadrone System another $3 million. No one around here believes the company's well will run dry any time soon.
SkyWard
Skyward is another drone company offering services as opposed to physial products. They develop integrated flight planning management and fleet management solutions for drones that are cloud-based. Companies around the world that use drones are employing Skyward to mitigate their risk, to connect their people, projects and equipment, and to manage record systems.
From commercial function to expanding the use of drones for recreation, these companies represent the future of flying drones. It is our strong belief these 10 drone-related companies will make the moves that will determine how we spend our leisure time, how businesses get work done, and ultimately the way we map, film and tell stories with motion.
Yuneec
Yuneec can boast having some of the most popular and functional drones in the market. The Typhoon H has been compared to the Phantom 4. On the heels of that success, the company released Breeze, a sleek, affordable and compact drone with a camera reported to rival the Mavi and possibly the Karma. Any review of top drone companies will always include Yuneec and at least one of their flying drones.
Conclusion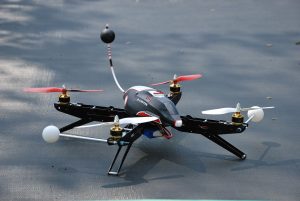 Like many reading this, we think drones are the coolest things on the planet. We're fascinated with how this once nerdy little hobby has become a worldwide sensation. From creating YouTube superstars to saving lives, drones are giving us all new opportunities to fly and engage.
We plan to continue keeping our eye on drones, their producers and their possibilities. And we plan to share every single piece of relevant information we gather with you. We're here to ensure everyone has the information they need to make educated decisions about buying and maintaining their drones.