Best RC Helicopter Reviews and Buying Guide. Choose the Right One!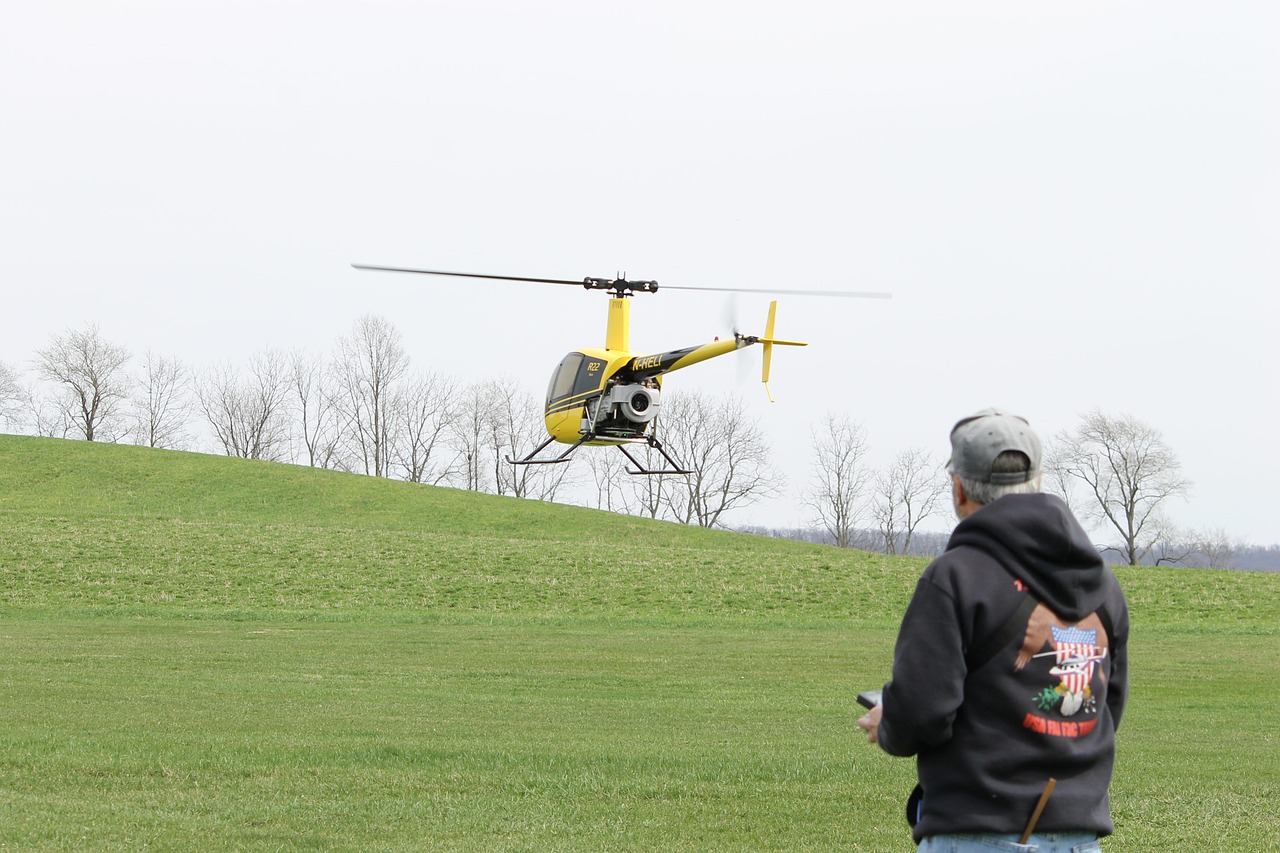 A remote controlled helicopter is going to give you hours of fun. They are also used for a broad range of professional services, gathering information to further a number of projects in a variety of industries.
Unfortunately, unless you have some history with these devices, finding the best RC helicopter can be a task. There are hundreds of models broken down by types, brands, features and more. You have to decide if you want to fly out the box or grab a kit. You need to consider radio types. You have to take into account where you plan to fly. All impact what kind of RC helicopter to buy.
We have the info you need. We'll walk you through the process in excruciating detail and, when we're finished, you'll know exactly what you need to do.
Our Top Rc Helicopters Comparison Chart
How to Choose the Right Remote Control Helicopter

The best remote control helicopter is going to vary based on everything from locale to price, types, features and size. Every person's adventure is different. Here are some tips for deciding which RC helicopter is going to serve its purposes for you or the person you plan to gift.
Where to Start
As the helicopter – even a toy helicopter – is naturally unstable, RC helicopters are engineered for management based on skill level. The beginner would not want to tackle a model designed for an expert. This would only lead to disaster and wasted money.
To begin, here are the basic types of RC helicopters and where they belong in terms of skill level.
Coaxial Pitch RC Helicopters
Beginners should start with coaxial remote controlled helicopters for adults and kids. These devices usually have three or four channels. If you come across a two channel, easy to fly RC helicopter, expect extremely limited capability. It may be the best cheap helicopter, but you will lose interest fast. A five or six channel helicopter is going to be pretty powerful and more expensive. The coaxial heli will likely use a 45 degree flybar. This piece of metal or plastic minimizes pitch or roll as it spins with the upper rotor, acting as a dampener of movement not initiated by the user.
PROS:
Overall, the best 4 channel RC helicopter beginner is going to be innately stable, making it a great learning tool.
CONS:
Movement is going to be limited, but the device isn't designed for acrobatic potential.
The intermediate and pro may find the speed limits of the 45 degree flybar frustrating.
The overall design of coaxial remote helicopters for adults limits flying outdoors.
A strong wind can cause this heli to climb instead of move forward.
A starter RC helicopter can be limited in size as throttles can become less responsive with larger rotor diameters.
Fixed Pitch RC Helicopters
Fixed pitch helis are flying toys for adults designed with a toned-down collective pitch (see next type). With the collective trimmed, the user is responsible for the device's altitude. Usually engineered with a 45 degree flybar, fixed pitch helicopters can have three to five channels.
PROS:
The fixed pitch unit is the coolest RC helicopter for the intermediate pilot, promising a realistic and more responsive flight.
These devices are more stable.
The fixed pitch is a good indoor or outdoor option for someone with a more experienced hand.
CONS:
The fixed pitch heli has limited aerobatic facility.
Flying at higher speeds with a 45 degree flybar can be frustrating.
As throttle becomes unresponsive at larger sizes, the fixed pitch is more likely to be a small or mini RC helicopter.
Collective Pitch RC Helicopters
Collective pitch helicopters have the capacity to vary the angle of attack, or pitch, of the main blade. This controls the amount of lift. In general, these remote control helicopters for adults utilize a 90 degree flybar. This makes them innately unstable compared to the coaxial or fixed pitch models. But it also makes them more responsive. The pilot will be making constant and critical decisions from takeoff to landing.
Our radio controlled helicopters reviews have found the collective pitch moves in proportion to the tilt of the swashplate. The swashplate manages the manipulation of rotating blades through a non-rotation system, essentially allowing a stationary heli to manipulate zipping blades.
The collective pitch can have five or more channels.
PROS:
The collective pitch is highly responsive.
If it comes with the right controller, it's capable of a range of tricks and stunts.
This is the device for the skilled intermediate and expert flier.
Due to the collective and lift control, this helicopter can be larger without loss of responsiveness.
Under a talented hand, a good RC helicopter can fly upside down.
CONS:
Innately unstable even under the best conditions makes this an adventure for the more experienced user.
These helis have less power efficiency due to their horizontal tail rotor and symmetrical airfoils.
More Comparisons
|   | Coaxial | Fixed Pitch | Collective |
| --- | --- | --- | --- |
| Flight time | The best RC heli offers up to a quarter hour of flying. | The pitched version with a good battery can go as long as 10 minutes. | On average, you will get no more than eight minutes. |
| Size | The design will allow no more than a 24 inch main rotor. | Much like the coaxial models, this one is limited in size. | This category of durable RC helicopter has no size limit. The best remote control helicopter can be an impressive one-quarter to scale. |
| Speed | Speed is limited. | Better than the coaxial, but not too impressive. | The collective pitch heli has exceptional high speed potential |
| Environment capacity | With its limited capacity, this is good for outdoor use and is probably the best indoor RC helicopter. | As it can be unstable and require more control, only an experienced flier should be using one of these indoors. But the daredevil may likely take the risk. | Unless you're Evel Knievel, you want to keep this one outdoors. |
| Budget | The coaxial will be the best cheap RC helicopter. | Depending on the model, this will be a moderate to expensive investment. | The collectives will be the most expensive but top RC helicopters. |
| Ease of use | With its stability, this is the perfect choice for the new pilot. This is the go-to for an indoor remote control helicopter. | The next step up from the coaxial. Flyers will be managing a less stable device, requiring more work from the flier. | The collective pitch will be the most difficult to fly. This means a deft hand comfortable with responding to all types of situations. |
Ultimately, beginners will be best off with a four channel coaxial. The best cheap remote control helicopter will provide new adventures and fun, but it will also offer the opportunity to learn about charging habits, battery care, radio control and, of course, flying.
Depending on how much time you have in the air, an intermediate or experienced pilot can choose between the fixed and collective pitch. Do not overestimate your skill. Many a pilot has found out they weren't ready for the most powerful toy helicopter for adults while standing over a shattered model.
Tips for Buying the Best Radio Controlled Helicopters
Type
You can start with toy helicopters for adults and children before working your way up the ladder to quadrotors. The final decision is going to be based on where and how the heli will be used.
Number of Channels
When you're looking for the best RC helicopter, you need to consider how it receives radio signals and how critical that will be to your enjoyment. The more channels a heli has, the less stability it is likely to have. This means the device will need a pilot capable of managing control of the device and the conditions it could face. A basic two channel model will likely have control of speed and yaw. These helicopters will be restricted in their motion. The best 6ch RC helicopter will have the functionality for a wide array of actions, requiring a skilled hand that can react and initiate tasks safely.
Power Sources
While some RC helis use gas or turbine engines, the more sophisticated utilize glow fuel or electric batteries. Glow fuel is a mixture of methanol and nitromethane, and offers between seven and 10 minutes of flight dependent on the unit's engine. The power source can affect the adventure. For instance, glow fuel has been said to push a top rated RC helicopter high enough to disappear. Battery-powered helis, less expensive and less noisy, are safe and convenient, but those batteries are not going to send your heli out of sight. They will extend flight time and that's something every pilot should appreciate.
Maintenance
Once you've seen the kind of recreation the best budget RC helicopter provides, you'll spend as much time in the air as you can. The more you fly, the more wear and tear on the unit. You will have to devote maintenance to even a durable remote control helicopter. Find out how to care for any model you're interested in. The best and safest cleansers, and the ease for finding and replacing canopies, batteries, washplates and landing skids. You may want to upgrade to improve performance one day, so know how easy that will be.
Design
Regardless of size, a RC heli has to be lightweight. This enhances power efficiency. But it's also important that it's as strong as possible in case of crashes. Beginners should go with sturdier models like hard plastic polymers. Remember, the more lightweight, the faster it will probably be and the greater response the user will need. Even the seasoned flier crashes. For the smart flier, it makes sense to be prepared for all contingencies.

Upgrades, Add-ons & Accessories
As you learn more about flying, your perspective on how to fly will change. Instead of just buying a new mini helicopter with camera or replacing a top RC helicopter, the ambitious just build on what they have. Some may add a mount for a camera. Others might replace blades. Take note some models may not be manufactured for upgrading.
Conclusion
Flying helicopters can be a rewarding experience for all ages. If you're ready to start or expand on your adventures, getting a good idea of what these devices do will impact the entire venture. From simple to complex models, the savvy pilot knows you need to understand availability of parts, power sources, channels, accessories and construction.
Of course, everyone has to start somewhere. But that's why we're here.
Best RC Helicopters Reviews
Best Remote Control Helicopter For Beginners
Syma S107G 3 Channel RC Helicopter with Gyro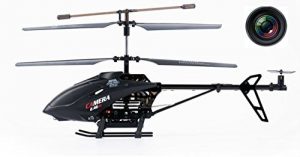 The Syma S107G 3 Channel RC Helicopter with Gyro is a great introduction to flying. Syma is a noted producer of the best toy helicopter for adults, giving everyone a chance to learn without investing a chunk of cash.
Of all our indoor RC helicopter reviews, the Syma S107G stood out. It has up/down, left/right and forward/backward flight controls. The battery only takes about a half hour to fully recharge and provides almost 10 minutes of flight.
Features
The Syma S107G promises a stable and safe indoor flight.
The device has a very short learning curve.
The RC helicopter has a professional design but manages to be the easiest rechargeable remote control helicopter to fly.
Specifications
Product Dimensions: 17.8 x 7.3 x 3 inches
Weight / Shipping Weight: 8 / 11.2 ounces
Model number: S107G-B
PROS:
This is the best electric helicopter for its price, function and potential.
The Syma mini helicopter has a durable construction capable of surviving a range of indoor crashes.
The Syma is an inexpensive way to find out if someone is serious about the hobby.
CONS:
This model cannot be used outdoors as natural sunlight can interfere with its infrared sensors.
There have been complaints of counterfeit Symas which do not work.
Verdict
The Syma S107G 3 Channel RC Helicopter with Gyro has a simple design and can be played with in small confines. It's a great jumping off point for the newcomer.
Best RC Helicopter Under $50
WLtoys Advanced V911 Mini Single Propeller RC Helicopter
Inexpensive doesn't have to mean cheaply made. The WLtoys Advanced V911 Mini Single Propeller RC Helicopter is an exceptional option if you want to fly out the box. This mini RC copter is noted for its responsiveness, doing exactly what its pilot needs. Novices have needed little time to hover, circle, figure eight or pirouette.
The V911 Mini Single Propeller more than excels at what we expect from top remote control helicopters.
Features
The device has a reinforced fuselage, enhancing flight reliability and increasing impact resistance.
This best mini helicopter has four channels and promises between five and six minutes in the air.
The product has been lauded for its durability, surviving crash after crash with no significant or irreparable damage.
Specifications
Product Dimensions: 15.1 x 11.5 x 4.1 inches
Weight / Shipping Weight: 1.6 / 1.6 pounds
Model number: V911
PROS:
This is the best small helicopter in its price category.
While the novice will have a learning curve, this model will be comfortable in the hands of an intermediate user.
For those learning to fly, the unit has a strengthened fuselage and tremendous impact resistance.
CONS:
Examine the heli before the first flight as small parts, like a blade grip screw, have been known to come loose.
The manual is somewhat indecipherable, forcing new owners to turn to resources like YouTube for adequate instructions.
Verdict
The WLtoys Advanced V911 Mini Single Propeller RC Helicopter is the best RC helicopter under $50. It will bring many hours of pleasure and is easily repairable.
Best 4 Channel Helicopter
Hero RC H911 2.4 GHz iRocket 4 Channel Fixed Pitch Ready to Fly Helicopter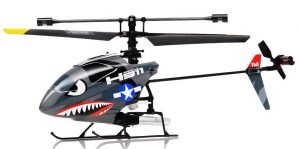 If you're looking for the best 4 ch RC helicopter, look no further than the Hero RC H911 2.4 GHZ iRocket 4 Channel Fixed Pitch Ready to Fly Helicopter. It is both an indoor and outdoor flier with dual mode operation, LCD transmission and servo cyclic control.
With four channels, this fixed pitch heli provides true control for adventure in the sky. Light and durable, its performance is enhanced by a 2.4 GHz transmitter and LCD.
Features
The package comes with the RC H911, battery, main and tail blades, balance bar, connect buckle and USB charger.
The Hero H911 has dual mode operation and can be safely used indoors but promises fun outdoors as well.
The LCD transmitter promises fine tuned flexibility in the air.
The composite plastic construct makes the device both lightweight and durable.
Specifications
Product Dimensions: 8.7 x 2.1 x 3.2 inches
Weight / Shipping Weight: 1 / 1.6 ounces
Model number: H911
PROS:
Throughout a range of outdoor RC helicopter reviews, the H911 stood out when it came to fun and excitement.
If a USB port isn't available, the device has a plug for recharging batteries.
If you were comfortable with the three channel V911, the four channel device will be the coolest remote control helicopter you get your hands on.
CONS:
While advertised as indoor and outdoor, our RC helicopter reviews have found it will perform outdoors only under the best conditions: no wind over an open grass field.
The device has been reported as starting out with erratic spins before crashing.
Verdict
The best 4 channel helicopter definitely goes to the Hero RC H911 2.4 GHz iRocket 4 Channel Fixed Pitch Ready to Fly Helicopter. It is a significant upgrade from the three channel version, improving on operation and its fun ratio.
Best Remote Control Helicopter with Camera
Zelicopters RC Helicopter U13a with Video & Photo Camera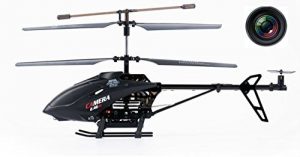 The Zelicopters RC Helicopter U13a with Video & Photo Camera is the hands-down winner in the best remote control helicopter with camera. This RC helicopter best exemplifies what you want to power your adventures, including a 2.4 GHz six axis gyro, a 4-in-1 infrared receiver, a metal alloy frame and LiPo battery.
With a range of 500 feet, the U13A manages a strong connection between the helicopter and its pilot with the latest tech in transmission and receiving. It's a great tool for taking pictures and recording videos for both recreational and professional projects, creating imagery that would only be possible with expensive equipment – like a real helicopter!
Features
The device has three channels for controlling six directions: up, down, backward, forward, clockwise and counter clockwise.
This best RC helicopter with camera takes stunning pictures and videos while hovering and flying.
It has a 4-in-1 infrared receiver, a three axis gyro, mixer and ESC.
Specifications
Product Dimensions: 23.8 x 9.2 x 3.5 inches
Weight / Shipping Weight: 1.8 / 1.8 pounds
Model number: U13a
PROS:
The metal alloy frame, flybar and elastic banding ensures resistance to impacts.
The camera returns quality video and pictures.
The device is equipped with over charging protection, prolonging the life span of the battery.
The unit has six channels, providing the greatest flexibility for a best outdoor helicopter.
CONS:
This RC helicopter has been said to move exceptionally slow even indoors.
When in neutral, the device can go backwards.
Verdict
Out the box, this proved to be the best remote control helicopter with camera. It didn't take long for the Zelicopters RC Helicopter U13a with Video & Photo Camera to feel comfortable and exhibit a stable platform.
Best Remote Control Helicopter for Adults
Walkera Super CP 2.4G 6CH 3D RC Helicopter RTF with DEVO 7 Transmitter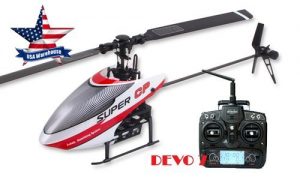 The Walkera Super CP 2.4G 6CH 3D RC Helicopter RTF with DEVO 7 Transmitter is an exceptional helicopter toy for adults. The package includes the Walkera Super CP, the DEVO 7 transmitter, a 3.7 volt 240 mAh LiPo battery, one USB charger and a user manual. Update the firmware to allow telemetry functionality to monitor battery use, voltage, temp and the unit's flying status.
This best remote control helicopter for adults has a flybarless design for greater efficiency and low power loss. The automated three axis gyro stabilization system manages flight control. The design is eco-friendly with a low volt drive system that promotes safe power.
Features
These indoor mini RC helicopters provide five to six minutes of flight time with a full battery charge.
The sophisticated gyro stabilization system adjusts control of flying automatically.
With an adapter and UPO2 upgrade cable, update the RX firmware, adding, among other things, telemetry functionality.
The DEVO 7 manages multi-model memory, channel remapping and PC emulation.
This model was designed for indoor use.
Specifications
Product Dimensions: 11.2 x 9.4 x 4.3 inches
Weight / Shipping Weight: 2.1 / 2.1 pounds
Model number: 68008
PROS:
The flybarless design promotes low power loss and greatly maximizes power efficiency.
For ease of use and affordable pricing, this is a good beginner RC helicopter.
CONS:
This item has been shipped with the wrong battery.
Verdict
The mini size Walkera Super CP 2.4G 6CH 3D RC Helicopter RTF with DEVO 7 Transmitter has a low voltage system and telemetry firmware that simplifies its production. It makes for great indoor recreation and is worthy of being called the best remote control helicopter for adults.
Best Micro RC Helicopter
Blade Nano CP S BNF Vehicle
For the best mini RC helicopter, we have to turn to the Blade Nano CP S BNF Vehicle. Also a best cheap RC helicopter, the Nano requires no assembly and weighs less than 10 ounces. Small and compact, it uses the most advanced 3D heli flight tech for creating safe and fun adventures.
These are top mini RC helicopters providing everything you need, including two pairs of main blades, a high speed motor and direct drive, long throw cyclic servos and a mode for Panic Recovery when the heli's in trouble. The device has collective pitch rotor technology and flybarless mechanics.
Features
The Nano has the collective pitch and power to manage outdoor breezes, open windows and indoor HVAC ducts.
This product is strong, surviving any number of abusive conditions and needing little repair work.
The motor allows excellent tracking and offers advanced agility and stability.
Specifications
Product Dimensions: 4 x 2 x 8 inches
Weight / Shipping Weight: 9.6 / 9.6 ounces
Model number: BLH2480
PROS:
The Panic Recovery feature instantly recovers the mini copter, setting level altitudes.
With its lightweight air frame, the Nano is perfect for aerobatic action.
It has a carbon fiber tail boom and main shaft for surprising durability.
Maximize the unit's performance with the Spektrum DSMX multi-channel transmitter. (not included)
CONS:
Many purchasers have had trouble getting the Nano to bind with their devices.
Pilots have only been able to get the heli to fly in beginner mode.
Verdict
The Blade Nano CP S BNF Vehicle is a flybarless resource and will build any user's skill set over time. Zip around with ease using the best micro RC helicopter for the price.
Best Intermediate RC Helicopter
E-flite Blade mCX2 RTF
An upgrade on the original Blade mCX, the E-flite Blade mCX2 RTF is a leading remote control helicopter for adults. The new design ups the ante, keeping the coaxial and counter rotating rotor head functionality, but adding LED lights and adjustable swash sensitivity. Maximum control is boosted through more powerful motors and the 120 mAh battery pack. Expect unequaled control, stability and durability.
As the best intermediate RC helicopter, the E-flite Blade omes ready with Spektrum™ 2.4GHz DSM2® receiver technology. That's a 5-in-1 control unit alongside the unit's main motor ESCs, a gyro, mixer and pre-proportional servos.
Features
The MLP4DSM four channel 2.4GHz Spektrum transmitter provides greater freedom from frequency restrictions.
The body has been redesigned and highlighted with a series of flashing LED lights.
This best 4ch helicopter has coaxial, counter rotating rotor head engineering and dual micro coreless motors.
Specifications
Product Dimensions: 16.5 x 8.5 x 5.7 inches
Weight / Shipping Weight: 1 ounce / 2.5 pounds
Model number: EFLH2400
PROS:
The product is shipped factory assembled and ready to fly.
The E-flite Blade has a precision swashplate for exacting user control.
The product has a full line of replacement parts.
CONS:
This helicopter needs features to enable better balancing and adjustment of flight controls.
Motors will slip out place and prevent flight.
The manufacturer offers no warranty on this RC heli.
Verdict
The E-flite Blade mCX2 RTF is an impressive upgrade on an already reliable RC helicopter. This best intermediate RC helicopter has a rich set of features and promises to reinvent the game for the skilled flier.
Best RC Helicopter for Kids
GYRO Nano Hercules Unbreakable 3.5 CH Electric RTF RC Helicopter
Kids are fickle. Today, they want to be pilots, tomorrow, lion tamers. Supporting their interests can get expensive. It's why the junior pilot should start off with an affordable but smart toy helicopter that promotes excitement and fun. In that regard, the GYRO Nano Hercules Unbreakable 3.5 CH Electric RTF RC Helicopter is the best RC helicopter for kids.
A best toy helicopter, the Nano 3.5 comes with a compatible radio transmitter, internal rechargeable battery and a USB charging cord. It has a polymer frame ready for 200 pounds of force. Stability is guaranteed via a built-in gyroscope.
Features
The Nano is an excellent first RC helicopter for the curious junior pilot.
Designed from a polymer material capable of facing 200 pounds of force, this device is ready for the type of beating a child's toy is in for.
The tech has almost no learning curve, ensuring fliers will be going left, right, up, down and hovering almost right away.
Specifications
Product Dimensions: 19.5 x 3 x 8 inches
Weight / Shipping Weight: 1.1 / 1.1 pounds
Model number: 35939
PROS:
The Hercules has been known to keep flying even after hitting an obstacle.
The helicopter is serviceable, requiring no more than a tiny screwdriver.
The LED lights make for fun flights in the dark or at night.
CONS:
On a full charge, the device will only provide about five minutes of flight though advertisements promote twice that.
It can take between seconds and minutes before the controller syncs with the device.
It's rumored customer service does not answer its phone.
Verdict
If you want the best RC helicopter for kids, look no further than the GYRO Nano Hercules Unbreakable 3.5 CH Electric RTF RC Helicopter.
Most Expensive Remote Control Helicopter
ALIGN RH47E01XW T-REX 470LM Super Combo
Promoting the latest electronic tech and innovative design, Align pushes the boundaries with its RH47E01XW T-REX 470LM Super Combo. Ranked as the most expensive remote control helicopter, it has the capacity to impress the most experienced pilot. This best outdoor RC helicopter has superior stability with a 470EFL Main Rotor Head. It also has a lower CG design that minimizes resistance in the sky alongside a stricter and fast rotor head response.
Features
The device uses a 1.2 mm 3K carbon fiber main frame.
Its wider body accommodates a larger battery.
The 470 MX motor produces more power, exceptional torque, an improved current draw and better operating temperatures.
The brushless ESC can be set based on servo needs.
Specifications
Product Dimensions: 29.7 x 8.3 x 4.2 inches
Recommended age: 14 years and up
PROS:
The increased body size allows for larger battery compartment and use of greater battery capacity.
The adjustable belt guide pulley manages belt tension through the tightening or loosening of the screw.
CONS:
For a RC helicopter, the ALIGN RH47E01XW T-REX is going to require reaching deep into those pockets.
Verdict
It may be the most expensive remote control helicopter, but anyone familiar with RC copters can tell you the ALIGN RH47E01XW T-REX 470LM Super Combo is the real deal. There is nothing about it worth leaving on the table.
Best Quality RC Helicpoter
Blade 500 X BNF
For the best quality RC helicopter, our remote control helicopter reviews took us through many a good remote control helicopter before we landing on the Blade 500 X BNF. It comes with integrated BeastX flybarless tech for the Spektrum™ AR7200BX DSMX® receiver. It has CNC-machined aluminum swashplates and head blocks. The hardened steel main shaft is supported by triple ball bearings. It incorporates tech from E-flite like 520H 1320Kv brushless motor, the 6S 22.2V 2900 mAh 30C Li-Po battery and E-flite's 70A S-BEC speed control. From belt driven thrust bearing tail rotors to 425 mm carbon fiber main blades, the Blade 500 X BNF is the real deal.
Features
Flybarless setup unleashes 3D helicopter capability, eliminating excess weight and mechanical complexity.
BeastX tech combines a seven channel receiver and the BeastX system, creating an unit that weighs no more than half an ounce.
It has state-of-the-art engineering and electronics that includes MEMs stabilization, a 520H 1320 Kv and a 6S 30C LiPo battery.
Specifications
Type: 500-class electric collective pitch flybarless helicopter
Gross Weight: 3.88 pounds
Length: 33.5 inches
Recommended age: 14 years and up
PROS:
Designed for the expert pilot, this best remote helicopter provides aggressive 3D heli flying.
Faster speeds and lighter disc loading is derived through the flybarless setup.
CONS:
The Blade 500 has a steep learning curve and should be left to the experienced pilot.
Verdict
The Blade 500 X BNF returns one impressive flight after another. It is the best quality RC helicopter with its superior construction, exemplary features and many opportunities to reinvent how you enjoy flying.
Making The Decision
Play is good for the soul. Hobbies help relieve stress and remind us to take more moments for ourselves. RC helicopters are certainly great ways to relieve stress. While there are plenty of indoor devices, RC flying is about getting outdoors and looking to reach the skies. If you spend that time with family or friends, you share like-minded experiences, connecting on personal levels.
We can appreciate what flying RC helicopters does for the mind, body and soul. We'd like everyone to try it just once and reap the benefits. Of course, it's a different experience for each pilot. That's why we want to help you connect with the right experience. Whether it's a drone with camera or an inexpensive model for having fun with your kid, we have the guides, tips and remote helicopter reviews for putting the right device in your hands.