Get the Best Drone With Camera – Guides and Camera Drone Reviews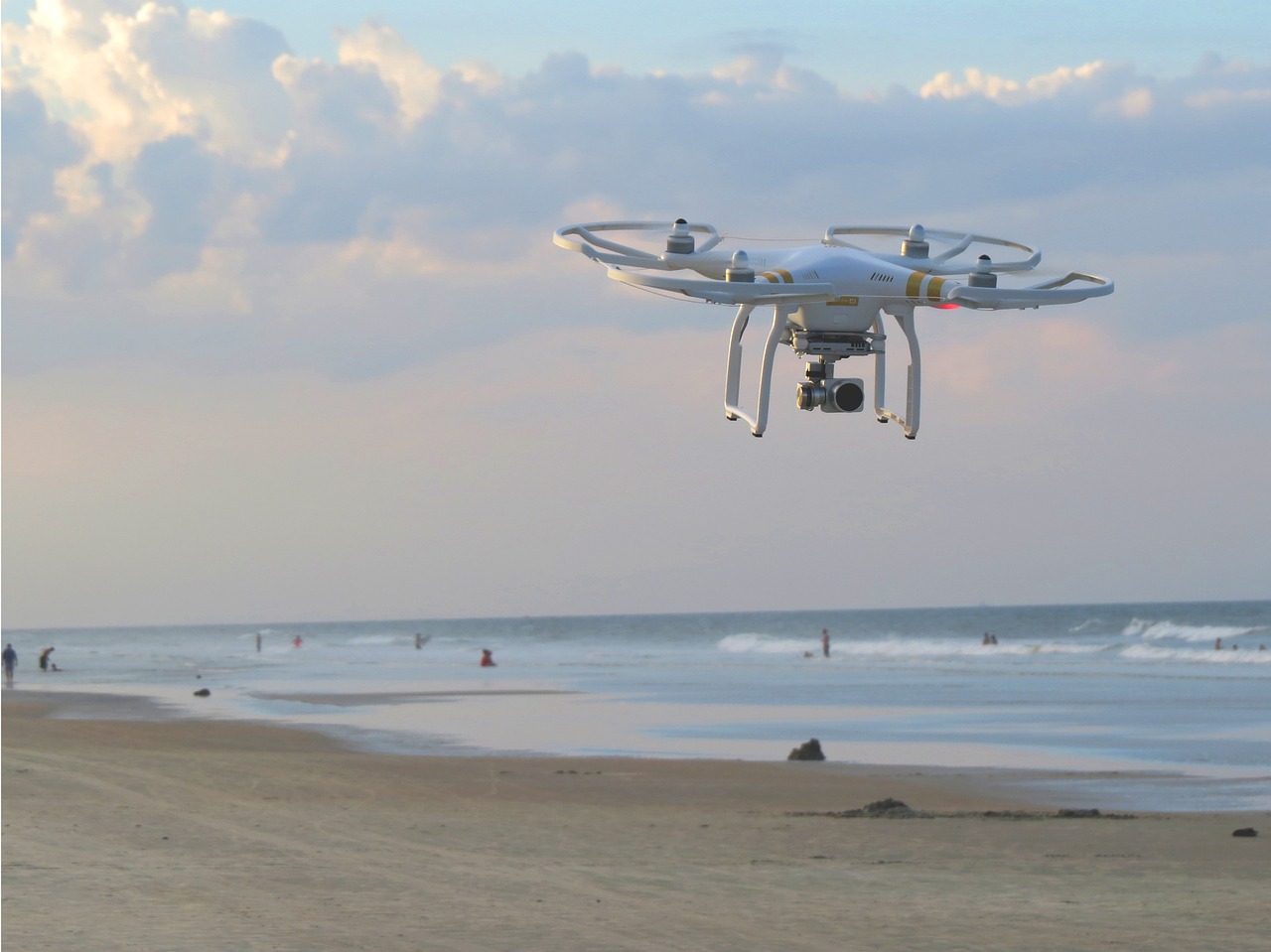 The personal drone with camera has changed the way we watch the world. The tech lets everyone have aerial fun and create productions we couldn't have imagined. Suddenly, novice directors can use a quadcopter camera drone to shoot amazing scenes without a professional crew or expensive equipment. The videographer can get the perfect video capture. Just like that, our imaginations are not limited to what's in front of us. We can reach the sky!
We've crafted a wealth of information about the remote control camera drone. From the best drone with camera to managing drones responsibly, every camera drone review is going to help you make smart decisions.
Our Top 10 Drones With Camera Comparison Chart
What is the Best Camera Drone?
The best camera drones are more than a fascinating toy. While they are being used for good, safe fun with family and friends, they are also groups like video directors and construction site mappers exciting ways to shoot without heavy, expensive equipment and the manpower to operate it.
It's no wonder why more and more people have their eye out for the best RC drone with camera.
If you're considering getting one of these puppies, choose carefully. Whether you want to use it for recreation or want to have the best drone with HD camera to become the next Spielberg, consider no one camera is engineered for all things. A drone can be completely wrong for your purposes. Some drones are not worth investing in.
Here are considerations for choosing the best remote drone with camera.

Material
The quality of the materials will have more impact on your budget than any other. Manufacturers use a range of materials. You can get ordinary plastic or a durable ABS plastic. You can also spend the bucks for carbon or fiber glass casing. A drone that's going to be used in open fields may not need the sturdiness of a product to shoot in the mountains. Consider what you want to do with the drone and the camera, how long you want to do it and, no matter how responsible you are, the drone is probably going to hit a few surfaces hard.
The Battery
Battery technology is still evolving. The best RC quadcopter with camera can hold out a good half hour. A lower priced product may not last 10 minutes. We suggest no matter what the life of your battery, it might be a good idea to keep extras on hand. If you're shooting a video, you don't want a drone that flies for five minutes before needing a two hour charge before it can go up again. Get the longest lasting battery your budget can afford and have anywhere between two or three extras so that your productions aren't stalled waiting for a recharge.
Maintenance
Parts are not universal. Even the best quadcopter with camera is going to eventually need work. Learn how easy it would be to repair landing gear or replace a propeller on the device you have in mind, and what you'd end up spending. Look for the best remote control drone with camera that doesn't need a shop to fix. You can save money and time for every project you do yourself.
Features & Ease of Use
Companies are fighting to come up with convenient and user-friendly features so that their products stand out as the best drone camera. That's why your device can have GPS, pre-programmed flight patterns, auto landing and return, and FPV operation. But don't fool yourself into thinking a lot of features make it the best camera drone. The best drones with camera in general have basic features that will be perfect for most operations. For the extras, choose a drone with features that fit your specifications.
Camera
Ideally, you want a drone with a camera. There are options for attaching your own camera, like a GoPro. For the record, products with built-in cameras tend to be lighter, making the best quadcopters with camera more functional in the air. Like with any camera, you want to consider megapixels, video resolution, camera distance and controllable angling. Your camera's performance will be based on factors involving both the camera and the drone. For instance, while you want a camera that takes stunning pictures, that won't matter if you have a gimbal that shakes.
This is only the start of the process. Take into account height, speed, distance, live feeding and more. As you research, you'll learn more about what the best quadcopters with camera can do and to expect of the one you buy.
Couple of Niches to Earn Money with a Camera Drone
Drone tech has opened up new doors for the video and photography entrepreneur. What started out as a fun hobby has turned into an opportunity to create what can be a significant stream of income using even the cheapest quadcopter with camera.
The flying drone camera is getting lighter and smaller. It's returning higher resolutions and top quality lenses. Even lowered costs have led to novices producing a high level of production that can challenge the most professional camera drone. In fact, here are a few fields in which entrepreneurs ready to work hard can do wonders with a personal camera drone.

YouTube
Generating income from media giant YouTube is neither difficult nor easy. It's about smartly leveraging content that viewers will follow. There are many turning their material into a few thousands dollars a year and just as many looking at seven figures annually.
Drone video is extremely popular with the YouTube crowd. Users are posting daredevil videos. Others are using it to enhance story telling, travel videos and product advertising, smartly building their channels, audience and income stream. They are inspiring others to explore the sport.

News Footage
If you're in the right place at the right time, you may be able to capture a moment using a RC drone with live camera worth a pretty penny. People around the world are using everything from a mini drone with camera to cheap drones with camera to create material sought by news broadcasters.
From capturing civil upheaval to getting aerial shots after a natural disaster, private citizens are getting footage once only available through commercially piloted helicopters or planes.
Real Estate
From beach resorts to selling large properties, the professional drone camera has taken real estate by storm. Realtors and owners have found there is no more impressive a way to realize the unique features of a home, hotel, country club or other expansive property than through low altitude aerial video. Videographers are getting paid a good dollar using a drone quadcopter with camera to bring out the best in luxury resorts, cruise ships and castles for sale.

Sports, Events & Stunts
Using an HD camera drone, many hobbyists and professionals produce a check capturing local events for media outlets. Artisans in this vein are becoming common at local, regional and world events, including the ESPN X Games and the Boston Marathon. If you're into extreme sports, you could get a sizable audience filming yourself in action. Turn up at local sporting events and you may get lucky, getting a moment on film the world will want to see.
When using your aerial camera drone, it's important to be entertaining, original and informative. Just flying around won't be enough with today's savvy viewer. Find ways to use your RC drones with cameras to give viewers an interesting perspective and develop relevant content that people want to see. Creativity, education and fun are the leading force behind video success.
NOTE: Before using quad drones with camera at public events, make sure you know the local laws and guidelines for operating the device.
Quadcopter vs. Hexacopter vs. Octocopter: Which One is Best for Cameras?
Drones are more affordable than ever. But how much do you know about them? You're looking at one camera drone review after another, but are you paying attention to types?
Let's find out by taking a look at the three basic types of air drones with camera.
 

Quadcopter

Hexacopter

Octocopter

Description


This is probably the most popular drone. It has four propellers and four engines.
The hexacopter is the next evolution of the quad. It has six propellers and corresponding engines.
If you want the best of the best, go with an octocopter. It's the most expensive option, but spend time culling drone camera reviews and you'll learn there is no better way for capturing aerial footage than with eight engines.

Distinction


The propellers are essentially a square or rectangle design around the drone's body.
The hexacopter drone with camera has two additional propellers and engines. It can carry a heavier payload or camera. It requires a skilled hand as its maneuvering is more delicate than a quad.
The octocopter is the Mercedes of the drone world. With eight propellers and motors, you get ultimate control, speed and safety.

Benefits


The propellers provide solid power for lift and lets users take advantage of sufficient payloads or added.
The engineering behind the quad drone with camera means it can hold more weight without the need to drastically raise the product's price.
With its additional facilities, the hexacopter with camera will be a smoother ride.
A hexacopter drone has greater speeds and power.
The hexacopter has the capacity to fly at higher altitudes.
If one motor dies, there will still be decent maneuverability as opposed to a quad which would become difficult to control.
These models are agile, fast and flexible, perfect for everything from sporting events to shooting action scenes.
Extremely powerful, the octocopter can reach elevations that would weaken other vehicles.
The octo has balance that allows the management of heavier camera equipment.

Pros


These products aren't costly, giving everyone with a budget a chance to participate.
The design promises impressive maneuverability.
The quadcopter has the power to accept accessories without significant impact on performance.
The hexacopter has greater speed, power and elevation.
You can safely land it even if two of the motors died.
It has a greater payload than the quad.
The octocopter's design has the ultimate control, safety and power.
The device offers flexibility and can attain exceptionally high elevations, faster speeds and accepts heavier payloads.

Cons


The quadcopter drone with camera cannot deliver the performance of an octocopter or hexacopter.
The hexacopter will be higher priced than the quad.
The device is larger meaning it may not be able to get into smaller spaces.
Maintenance will cost more as parts and services are expensive.
The most expensive option for a good RC drone.
As it consumes more power for operation, the octocopter tends to have a smaller battery life.
These devices are big.

Who's It For?


The quadcopter is for the hobbyist. They are easy to use, readily available, cost less and provide a basis for learning about the camera flying drone.
The hexacopter belongs with the user looking for greater power and safety. For the price, it's a compromise between the quadcopter and octocopter.
The octocopter with HD camera is for the pro, especially if planning to use their own expensive camera to shoot under optimal conditions.
Most Popular & Best Camera Drone Brands
Yuneec
Yuneec is an acknowledged leader in electronic aviation. The manufacturer has the best quadcopters utilizing an iOS or Android device for viewing real-time video. Their solutions include the Typhoon 4K and Typhoon G with Android tablets built into the remotes. The Breeze is considered the best RC quadcopter with camera perfect for the beginner. It weighs under a pound and is a stunning mini drone with camera that captures 4K UHD imagery. The Tornado H920 even blows away the professional for its dynamic aerial performance and affordability.
DJI
DJI is at the top of many enthusiast and professional wishlists. Despite the sophistication of the manufacturer's remote control HD camera drones, one doesn't need to be an expert to get up and running. The Inspire 4K is the first true 4K filming drone, returning studio quality video for a fraction of the price. The model is regularly used in television production. The S900 – a hexacopter – is light, transportable and can be set up in minutes. The Phantom Vision 3 is considered the best quadcopter with camera.
Parrot
Any one of Parrot's devices will make a good beginner RC flying drone with camera. An innovative manufacturer of fun and sleek RC devices, Parrot designed the Parrot Bebop as a top, leisurely mini RC copter. It's lightweight, robust and provides stability without compromising maneuverability. The AR Drone Quadricopter shares content straight from its AR.FreeFlight app. Unfortunately, many of the manufacturer's devices only produce 720p HD. But that's probably why even their top remote control drone costs far less than the competition. Parrot's devices are great flying toys for adults and kids spending time in the yard or local park.
Syma
Syma calls its inventory "toys," but trust they are the best remote control camera drone toys you're going to find. Syma has the optimal personal camera drones for the beginner, starting with the X5C. It has a HD camera and still manages to be one of the least expensive products in the drone market. The company markets a series of quadcopters and FPV quadcopters with features like real time aerial photos, precise ascension, height and descent maneuvering, headless mode and anti-collision, anti-fall performance enhancement.
3D Robotics
3D Robotics delivers the complete package for the professional. They have a self-flying drone with a best-in-its-class camera, auto cloud processing and will compute data for direct use in almost any GIS or Autodesk tool. Its iOS app, Site Scan Field, surveys with a single tap. It takes off, calculates its own flight path, inspects objects and even self-lands when the job is completed. If you're in need of a top solution for surveying, construction projects, mining or any other large scale project that requires detail, high resolution 2D and 3D georeferencing models and mapping, 3D Robotics is a leader.
Best Drones With Camera Reviews
DJI Mavic Pro Bundle
From the brain trust that is DJI, this kit comes with everything you need to manage aerial shooting. With a planned release for early 2017, it's a little on the high priced side, but anyone that knows flying camera drones will see this is the real deal.
The Mavic Pro is a mini camera drone that can be folded into the size of a water bottle. It is considered one of the best action cameras outside of the GoPro. The device is controlled with a remote using the manufacturer's OcuSync technology. The Mavic has a stunning range of 4.3 miles with full 1080p HD live streaming. FlightAutonomy scans and avoids obstacles, allowing users to fly at maximum speeds without major concern for crashes.
Unlike many of the best RC drones with camera, the Mavic Pro is going to be in the air longer. Its battery lasts up to almost a half hour, twice the average drone with HD camera. The Pro is the only aerial camera drone in its category with three axis integration and precision stabilization, promising crystal clear imaging. The 12 megapixel camera with Adobe DNG RAW produces inspiring photos, whether up close or panoramic.
Features
The bundle comes with a pair of extra batteries, propellers and charging hubs each, a charger, one power pack to battery adapter and shoulder bag.
The DJI Mavic Pro folds into the size of a small bottle of water.
The device can stay in the air up to 27 minutes flying at 40 mph. Its sensor redundancy increases safety by avoiding obstacles.
Specifications
Product Dimensions: 10.5 x 9.5 x 9.5 inches
Weight / Shipping Weight: 1.6 / 7 pounds
Model number: CP.PT.000642
PROS
The device, compact size and weighing less than two pounds, is easily transportable.
Minimize bumps, scrapes and major damage with the Flight Autonomy feature.
The Mavic Pro can travel up to 40 mph and be controlled at a distance of 4.3 miles.
The bundle comes with the Pro, three batteries, additional propellers, two charging hubs, a car charger and one battery to power bank adapter.
CONS
This one is definitely on the pricey side.
Pilots are complaining about the company's lack of support for their products.
[/wpsm_box]

Verdict

DJI is a master of the professional camera drone. letting everyone create stunning visuals. The Mavic Pro Bundle is a complete toolkit that makes shooting the most complex shot effortless.

 
Yuneec Typhoon H UHD 4K Collision Avoidance Hexacopter Drone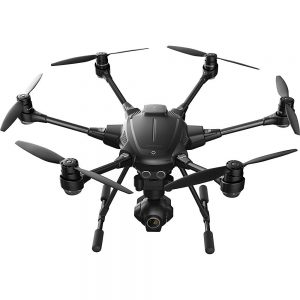 If you start with this hexacopter, you'll wonder why you didn't explore the world of the remote control camera drone sooner. If you're drone upgrading, this camera drone review will show you why this is the way to go.
The Typhoon H is both novice friendly and fully featured for the pro. The anti-vibration CGO3+ gimbal and 12 megapixel camera returns the crispest video and images. Have fun with the camera's ability to rotate on a 360 degree axis. Create camera settings in flight. Take advantage of a 98 degree field of view and wide angle lens.
Select an area and the Typhoon H orbits autonomously with the camera aimed at your point of interest. Program a route, letting the RC drone with live camera navigate pre-set conditions. Other features include a rotary fail safe and sonar collision prevention.
Features
The Typhoon H comes with the ST16 controller, a seven inch Android touchscreen, and a CGO3+ camera.
It has GPS stabilizing control, over a half dozen smart flight modes, auto takeoff and landing, and return to home functionality.
Get impressive 4K video and 12 megapixel photos with a 360 degree anti-vibrating gimbal.
The device can be quickly set up and taken down for speedy production.f
Specifications
Product Dimensions: 21.2 x 17 x 12.5 inches
Weight / Shipping Weight: 12 / 12 pounds
Model number: YUNTYHSCUS
PROS
The Typhoon H's Android ST16 integrated display controller returns real time video.
Carbon fiber construction decreases the device's weight while maximizing durability.
With the optional Yuneec Wizard, Team Mode allows delegation of remote drone with camera features. One user can control flight while others capture video.
CONS
There have been complaints the Typhoon H has a defect in the Smartmode feature which results in erratic behavior and crashes.
The micro SD card reader has been known to fail to release content.
Customer support is reported to be difficult to work with.
[/wpsm_box]

Verdict

With its user friendly operation and compact size, the Yuneec Typhoon H UHD 4K Collision Avoidance Hexacopter Drone is yet another of Yuneec's outstanding flying drone cameras. It was the winner of the "Best of Class" award at the 2016 Consumer Electronics Show.

 
DJI Phantom 4 Quadcopter Backpack Bundle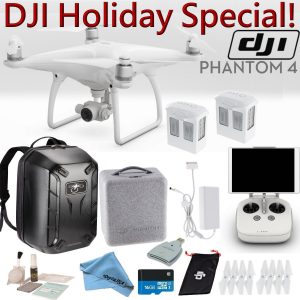 Yeah, it's pricey, but what you get for the price cannot be ignored. First, this kit comes with the Phantom 4, easily categorized as one of the best quadcopters with camera available. You also get an exhaustive set of extras: a remote, a flight battery charger, AC cable and flight battery chargers, a pair of intelli-flight batteries, a gimbal clamp, USB OTG and micro USB cables, one 16 GB MicroSD card, a eDigitalUSA card reader, brush blower, cleaning kit and microfiber cleaning cloth, and, to carry it all, the Phantom 4 backpack.
Like we said, exhaustive.
The Phantom 4 flies independently and intelligently with a single tap. It auto creates exceptional and seamless tracking shots, navigates obstacles and captures 4K 30 fps video in slow motion. The camera flying drone can rip through the sky at 44 mph and still be the smoothest quadcopter camera drone you ever operate.
Features
The Phantom 4 automatically detects and avoids obstacles, significantly protecting your investment and productions.
Tracking sensors allow front shield viewing through an enabled smartphone, tablet or other personal device.
Use ActiveTrack to have the device stay with a moving subject.
Specifications
Product Dimensions: 18 x 10 x 12 inches
Weight / Shipping Weight: 18 / 18 pounds
UNSPSC code: 45121516
PROS
The Phantom 4 can stay in the air almost 30 minutes with a control range of 3.1 miles.
With the DJI software, manage text, music and other effects right on your device.
The sophisticated GPS system allows simple control for even the most inexperienced pilot.
CONS
The Phantom 4 can become unresponsive and fall out of the sky.
After deciding issues with any newly bought personal drone with camera were not under warranty, customer support has offered small percentages on repurchases for an already expensive device.
[/wpsm_box]

Verdict

DJI is a highly regarded producer of some of the best camera drones on the market. The Phantom 4 has been lauded as visionary, going beyond the limits of what the tech was thought able to accomplish. The DJI Phantom 4 Quadcopter Backpack Bundle continues the tradition of the company providing the best quadcopters with camera.

 
Q500 Typhoon Quadcopter with 1080P 60FPS HD Video Camera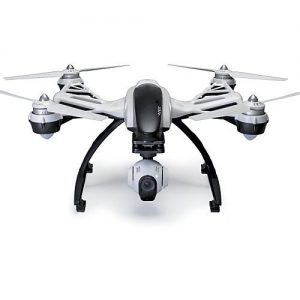 The Q500 Typhoon Quadcopter proves Yuneec is an innovative leader in electronic aviation. The device has a full 1080p 60 fps HD video 12 megapixel camera. The three axis gimbal supports image stabilization. The 5200 mAh battery promises up to 25 minutes of flight time and you can double that as the flying drone with camera comes with an extra battery.
The Q500 Typhoon has convenient position lights under each motor which makes keeping it visible in dark environments a snap. The controller has an Android tablet with a 4.5 inch screen. You get video, telemetry and an on-screen superimposed direction arrow. Video is recorded in a 130 degree immersive field of view. With a real time feed on the ST10 Personal Ground Station, you always have an exact frame of what your camera captures and records.
Features
A 12 megapixel 1080p camera has a three axis stabilizer for recording in a 130 degree field of view.
The Personal Ground Station provides an outstanding view of what the camera sees, allowing for framing the perfect shot.
The intelli-battery is good for almost a half hour of flight time.
Specifications
Product Dimensions: 20 x 20 x 14 inches
Weight / Shipping Weight: 15.1 / 15.1 pounds
Model number: Q500
PROS
With only a few flights, beginners have found themselves comfortable with this quad drone with camera.
The Q500 comes with two batteries, giving your productions almost a full hour of time in the air.
There are multiple settings for managing low light conditions.
The controller's LCD screen provides a nice FPV.
CONS
Yuneec has a rep for not providing the best customer support.
Motors have malfunctioned after a few flights.
The controller has had issues communicating with the quadcopter drone with camera.
On overcast days, glare can be a problem with the screen.
[/wpsm_box]

Verdict

If you want to capture video from the sky – whether for fun or profit – the Q500 Typhoon Quadcopter with 1080P 60FPS HD Video Camera is going to deliver outstanding imagery and a smooth flight for all your projects.

 
DJI T600 Inspire 1 Quadcopter with 4K Video Camera with Controller
DJI has taken its most advanced tech and put it in one platform, giving everyone the resources they need to capture imagery from the air. The DJI T600 Inspire 1 best RC quadcopter with camera kit comes with:
Aircraft Body (1)
Camera with Gimbal & Box
Propeller Pairs (4)
Remote Control (1)
Intelligent Flight Battery
Battery Charger
SD Card (16 GB)
ND Filter
Power Cable (1)
Micro-USB Cables (2)
Remote Controller Charging Cable
Harness
Carrying Case
Manuals
The drone quadcopter with camera has light bridge tech. This gives a complete reading on the drone's heading, elevation, map location, battery levels and flight mode. The professional drone camera visually and audibly relays information in real time. The carbon fiber arms can be adjusted to accommodate the way you want to shoot.
Features
Ready to go, the system contains everything you need for a confident and successful aerial film shoot. You will need a personal device for viewing.
The Inspire 1 camera and gimbal captures 12 megapixel photos and shoots 4K video.
Buy the set with an optional extra controller and share shooting and flying duties for smoother productions.
The design accommodates a full, unrestricted 360 degree view, giving pilots a tremendous range for capturing pictures and videos.
Specifications
Product Dimensions: 20 x 15 x 15 inches
Weight / Shipping Weight: 15 / 19.9 pounds
Model number: T600
PROS
The device is extremely stable, even in gusting winds.
With a consistent stream of information provided both audibly and visually, pilots will be able to fly with confidence.
You can expect quality imaging from the wide angle lens.
CONS
This device has a learning curve with significant commands and secondary controls. It's not for the beginner.
Firmware issues have caused crashes.
The DJI GO app has been known to not connect with the controller.
[/wpsm_box]

Verdict

The DJI T600 Inspire 1 Quadcopter with 4K Video Camera with Controller is a complete aerial film making resource.

 
Yuneec Breeze Flying Camera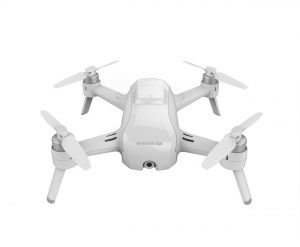 In the world of HD camera drones, no comprehensive camera drone review would be complete without a mention of the Yuneec Breeze Flying Camera. With most of its features creating a stable flying environment, this cheap drone with camera is considered a great training tool for the beginner or young hobbyist.
The Breeze is controlled by an Android or iOS with the manufacturer's app. The app can be used to share recorded content across social media. The drone weighs a single pound, making it one of the most compact and portable drones you could find. The device produces 13 megapixel photographs and ultra high definition 4K video. Safe for indoor and outdoor use, it has an automatic return to home feature and can auto-land.
Besides pre-designed flight plans, the Breeze offers the ability to control the type of image capture. You have Pilot, Orbit, Selfie, Journey or VisionTrack. Each mode has a set of unique properties.
Features
Indoor Positioning Sensors uses ground textures to hold position.
The drone has five custom designed automated flight modes.
At less than one pound with foldable propellers, the Breeze can be effortlessly transported.
One of the rare quad drones with camera that can be used safely indoors.
Specifications
Product Dimensions: 11 x 8.7 x 3.1 inches
Weight / Shipping Weight: 3.3 / 3.4 pounds
Model number: YUNFCAUS
PROS
No flying experience needed.
Automated flight modes let you concentrate on imaging.
The Breeze has pre-designed shooting including Selfie, Orbit and Follow Me.
Foldable propellers and the lightweight design makes this HD camera drone easy to carry.
CONS
Users have found outdoor flight erratic.
The drone is considered to be designed from low quality materials.
The manufacturer does not specify your device has to have no less than a 5 GHz band.
The device does not connect with all Androids.
[/wpsm_box]

Verdict

Yuneec Breeze Flying Camera was designed specifically with the newcomer in mind, but offers a range of features for the professional. From selfies to indoor use, this mini drone with camera promises to be a quick and easy way to take photos and videos.

 
DJI Phantom 4 Quadcopter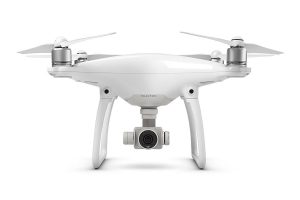 The DJI Phantom 4 Quadcopter has been called visionary and one of the smartest video camera drones ever created. With a single tap, activate its ability to fly intelligently, allowing you to create effortless tracking shots as the quadcopter flies independently around and over obstacles. The drone can capture 4K 30 fps video and has the facility to do so in slow motion at 120 fps. It has enhanced vision positioning and dual satellite positioning systems ensuring a reliable and safe flight experience every time.
The three axis u-frame stabilization system minimizes unwanted camera movement, ensuring you get steadiness in every shot. With dual compass modules and a greater use of inertial measurement units, the Phantom 4 promises every flight will be precise and reliable.
Features
Tracking sensors allow front shield viewing through an enabled smartphone, tablet or other personal device.
The Phantom 4 can automatically detect and avoid obstacles, significantly protecting your investment and productions.
Use ActiveTrack to have the device stay with a moving subject.
Specifications
Product Dimensions: 15 x 8.7 x 12.8 inches
Weight / Shipping Weight: 8.8 / 9.2 pounds
Model number: CP.PT.000312
PROS
The Phantom 4 can stay in the air almost 30 minutes with a control range of 3.1 miles.
With the DJI software, use a built-in editor to manage text, music and other effects right on your device.
The sophisticated GPS allows simple control for even the most inexperienced user.
CONS
The gimbal is known to fail when calibrating, usually at almost 75 percent on a level surface.
The Phantom 4 can become unresponsive.
After deciding issues with any newly bought personal drone with camera were not under warranty, customer support has offered small percentages on repurchases for an already expensive device.
[/wpsm_box]

Verdict

The DJI Phantom 4 Quadcopter is the next evolution in cameras designed to take to the sky. It has streamlined dynamics, sport mode and the capacity to travel at up to 45 mph, perfect for action sequences. The Phantom 4 belongs on any list of best RC drones with camera.

 
Parrot BeBop 2 Drone with FPV Bundle
Parrot doesn't believe you need a pilot's license or even to leave the ground to experience flight. The Parrot BeBop 2 Drone with FPV Bundle gives everyone the option to explore the world, reaching inaccessible places and creating incredible stories. The bundle maximizes the adventure with the Parrot Cockpitglasses and Parrot Skycontroller 2, letting you use this best drone with HD camera to create completely immersive experiences.
The Cockpitglasses splits HD images into side-by-side views. The Skycontroller 2 gives users reliable and precise control of the Bebop 2.
The Bebop 2 can be used in- and outdoors. It is the first leisure drone with the ability to fly up to 25 minutes on a single battery charge and weighs a little over a pound. With its optimized stabilization system, all your full HD footage will be clear, smooth and revealing. Take off and get back with the Return Home feature. Get a handle on camera drones with direction, speed, altitudes and anti-stall functions.
Features
The Parrot Bebop 2 utilizes seven sensors at the same time to maximize flight stability.
The drone shoots full 1080p HD video and 14 megapixel photographs with a wide angle built-in camera.
You can capture footage in a range of formats, including .RAW and .DNG.
Specifications
Product Dimensions: 3.5 x 12.9 x 12.9 inches
Weight / Shipping Weight: 1.1 / 1.2 pounds
Model number: 48179BBR
PROS
The high capacity 2700 mAh batter will keep you in the air up to 25 minutes on a full charge.
To ensure maximized flight stability, the system uses seven sensors.
Regardless of movement, the Bebop 2 has a stabilizing system that creates smooth imagery.
CONS
Loss of connection to the Skycontroller has left drones stuck in the air, and users waiting for the battery to die and the drone to fall.
Some have said the FPV returns blurry imagery.
[/wpsm_box]

Verdict

With its easy set up and use, the Parrot BeBop 2 Drone with FPV Bundle has everything you need to create quality video, take amazing photos and have the time of your life. From soaring through the air to producing amazing content, this bundle is your ticket to flying high.

 
USA Toyz U818A Wifi FPV Drone
Whether experienced pilot or newbie, this is an ideal choice among RC drones with cameras. The USA Toyz U818A Wifi FPV Drone has altitude hold, an HD camera and live video. As a bonus, the manufacturer has tossed in a VR headset and power bank.
This cheap quadcopter with camera returns 720p aerial photos and video. Your flight time is increased with an extra battery. The device has a ready to fly, lightweight design, making it a great gift for the junior pilot.
With the single push of a button, set the U818A Wifi FPV to hover, stabilizing the camera for a perfect shot. You can also use Headless Mode. This allows piloting without concern for which direction the device is facing. There's one button take off and landing, and the ability to create flight plans simply by tracing a path on the app screen for the drone to follow unassisted.
Features
Control altitude positioning with hold functions stabilizes what you capture on camera.
Trace a path on the mobile app screen and watch the U818A Wifi FPV follow the path unattended.
The included virtual reality headset really brings adventures to life.
You get additional a free second battery and a power bank, potentially quadrupling your time in the air.
Specifications
Product Dimensions: 14.4 x 4 x 13.8 inches
Weight / Shipping Weight: 5.4 ounces / 2.9 pounds
Model number: U818A
PROS
This is a great gift for the user with no experience or the curious junior pilot.
The design is surprisingly light but also surprisingly durable.
Video footage has been upgraded to 1280 x 720 at 30 fps.
CONS
There are cheap drones with camera with better flight time and non-brushed motors.
[/wpsm_box]

Verdict

The USA Toyz U818A Wifi FPV Drone has its custom route mode, one button landings and takeoffs, the capacity for a VR experience, WiFi FPV, altitude hold, headless mode and a bunch of other features. Though technically from the "beginner's" library of cheap drones with camera, it offers a great deal for everybody.

 
Focus FPV Drone
The Focus FPV Drone is one of the cheapest and best beginner quadcopters. It has a ton of features to help everyone learn the basics and develop their skill in the sky. There's FPV, a HD camera, return home functionality and headless mode. The design has soft landing pads and protective rotor guards for rough adventures.
Headless mode is an exceptional option for beginning to intermediate pilots. It eliminates aircraft position adjustments. With it, the drone goes left or right regardless of what direction the front is facing, an operation that helps you develop control until you can turn the feature off.
The six axis gyro provides wind resistance, stability and maneuverability. Its ease of use allows extreme flips, stunts and tricks. This looks cool at night with the framing LED lights.
Features
Capture striking high res aerial video and photos using the 720p HD wide angle lens camera.
The Return Home Function brings the Focus FPV back to your position with the push of a button.
You can potentially double your flight time with the included pair of LiPo batteries and two LiPo controller batteries.
Specifications
Product Dimensions: 17 x 9.7 x 3 inches
Weight / Shipping Weight: 2.4 / 2.4 pounds
Recommended age: 14 years and up
PROS
The drone can identify your location, returning to where you are.
Headless mode removes the need to adjust orientation before flight.
You can capture great video and images with the HD wide angle lens camera.
CONS
Some users – after carefully following all instructions – have not been able to get the device off the ground.
[/wpsm_box]

Verdict

The Focus FPV Drone is a top contender in its price and model category. From live video feed and its high definition camera to being able to perform incredible stunts, it will make every user feel like a pro.
Where to Buy Camera Drones: Great Resources
An estimated one million pilots joined the Camera Drone Club over the Christmas 2017 season. Numbers continue to grow as the tech advances, prices go down and the general public sees the advantages of having an aerial camera. People are using them for taking vacay content. Both hopeful Hollywood producers and top music video directors use drones to get shots without an extensive crew or expensive equipment – like a helicopter!
Where you buy your drone for sale with camera is as important as what kind. Choosing the top drones for sale means going with a reputable outlet known for selling a quality product from the best manufacturer. Before (or after) you've done your research (there are tons of resources right here on our site), take a look at this list of the best sites for buying flying camera drones.
Best Buy
Best Buy is a leader in all things electrical and electronic. If you're a flier, you've probably been directed their way during your research for drones for sale with camera. The site's search features are exacting. Look under top brand names like Yuneec, DJI or Parrot. Choose specific features like integrated cameras, GPS and app control. Search by customer rating, recommended age, discounts and special deals. If you need help or have questions, the company will connect you with a staffer devoted to flying.
Buy the Best Drone
If you're serious about RC drones with cameras, take a close look at Buy the Best Drone. Used almost exclusively by the professional and the military, this is the place for a customized model or build. They have resources for learning to fly and race these devices. Get the scoop on GoPro Drones and the best drones for the kids. Prices can range from as little as $50 and go well into four figures, but trust that it's all top shelf material.
Epfilms
If you're a hobbyist or starting out, Epfilms has a device for your holiday, party and vacation filming. If you're on the serious end of aerial filming and photography, Epfilms can fill exacting needs for everything from surveying to mining. Epfilms offers a variety of drones with cameras for sale that will accommodate all skill levels and budgets, and still provide a sophisticated and professional performance.
Toys'R'Us
From simplified drones and quads with cameras to advanced devices with immersive headsets, the toy giant has a range of products for the flier. Their inventory is definitely geared toward the younger set, making Toys'R'Us the perfect place to find a drone for young people showing an interest in flying. Light up their faces with the gift of flight and then wait to see if the hobby is taken seriously before investing more time and money into the recreation.
Amazon
The biggest retailer in the world is also the best place for drones with camera for sale. While this isn't the place to necessarily educate yourself about drones with cameras, it is the venue for finding just about any type, brand, accessory or price. It's where you'll find extensive customer reviews and ratings from enthusiasts, hobbyists and pros who want to share their experiences (good or bad).
Making The Decision
The flying camera drone is taking the world by storm. Once upon a time, these endeavors required big budgets, a crew of technicians, heavy equipment and an aerial vehicle! A flying drone with camera lets anyone with a vision create stunning content. They're turning personal gatherings into memorable captures. They're telling stories with a level of quality they could've never imagined.
If you are in the market for a drone with camera for sale, this is the place to start. We maintain and update a comprehensive library about the best remote control drones you can find. Whether it's the difference between a quadcopter or a hexacopter, or the best budget RC drone or radio controlled drone reviews, we have an opinion or suggestion to help you make the right decisions.