DJI Mavic Pro Quadcopter Drone Review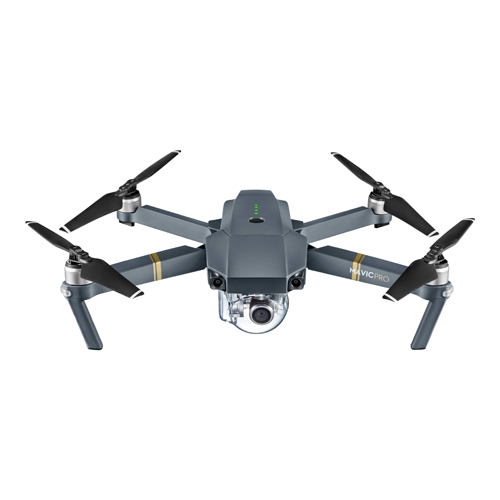 Drones are bringing undisputed revolution both to professional and recreational photography and videography. They provide easy maneuverability, enhanced stabilization, high-quality camera and other amazing features. With advanced technology, the rate at which drone industry is moving is actually terrifying.
The DJI Mavic Pro Quadcopter Drone justifies this statement. Yet another product from the DJI's drone manufacturers, this is arguably the smallest and well-featured quadcopter in their line-up.
Professionals seeking a perfect marriage between an unparalleled flying ability, low profile design, and a high-quality camera should try the DJI Mavic Pro Quadcopter Drone.
Features of The DJI Mavic Pro Quadcopter Drone
Design
If you are used to the phantom range of drones from DJI with impressive compact and lightweight nature, the DJI Mavic Pro Quadcopter Drone will certainly shock you. It is in a whole different league as far as portability is concerned. Just to mention, most pilots rage in the portability of drones currently. This is perhaps because they want quadcopters that can be easily packed and taken anywhere.
However, compactness usually translates to few features and abilities. Nonetheless, this isn't the case with DJI Mavic Pro Quadcopter Drone. Despite its small or rather tiny size, the Mavic Pro is the most feature-packed drone present currently. Beginning from its package, it is packed in a tiny pack, almost one-sixth the size of the Phantom drones. Seeing its size would get your mind baffling on its air stability and image quality.
Portability is the most standout feature of this drone. To achieve this, DJI replaced the space hogging fixed arm hill with a set of folding arms and props. This allows the drone to fold down to its neat, little package.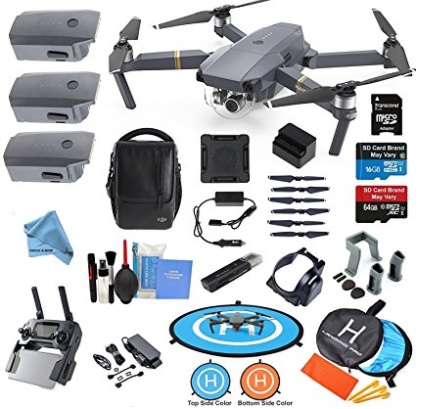 Cameras
This drone has small but powerful cameras. It can capture 12MP in JPEG or DNG RAW formats. It can also capture videos at various resolutions and frame rates including 4K at 30fps, 1080p or 98fps. The DJI Mavic Pro Quadcopter Drone is mounted on a three-axis gimbal that allows the device to capture extra stabilized video without resolution cutbacks.
The drone also has four additional cameras which are, however, not for photography. They are used to aid in flight stability and safety. Among the four, two cameras face downwards and help in preventing the drone from drifting around in areas with poor GPS coverage.
Note that GPS data is often used to maintain the position of drones. The other pair faces frontwards enabling it to detect obstacles thus preventing it from hitting them. The drone stops moving once it comes a few feet closer to anything solid. The obstacle detection doesn't work for backward or sideway movements. Beware!
Controller
Everything in the DJI Mavic Pro Quadcopter Drone is tiny. Even its controller. The controller unfolds to the fit and accommodates apple or android smartphones in its grip. It is connected to a phone using a short cable. Once connected, the controller automatically connects to the Mavic drone via Wi-Fi. With this, you can view the drone's camera feed and change the settings through DJI Go app from your phone. Through this, you can also keep the physical flying controls within reach.
The controller has relatively longer transmission range, going up to 4.3 miles. This is enabled by the incorporation of DJI's new OcuSync video transmission technology. This, however, depends on the obstacles and other interference present. Those who want to use a tablet or a phone that is too large to fit the drone's grip can use a full-sized USB port at the bottom of the controller.
Performance
The DJI Mavic Pro Quadcopter Drone has an outstanding, effortless and fast flight. In its regular settings, the drone is exceptionally responsive and acts instantly on the control inputs. However, you can achieve a scary speed, of up to 40mph by switching it to sports mode. Despite the speed, you will be able to get all important aerial shots and videos without compromising on quality. It ascends and descends satisfactorily.
Battery life
Despite its compact nature, DJI Mavic Pro Quadcopter Drone battery life is impressive. So to say, it has one of the longest flight times ever seen in a quadcopter. The drone can maintain hovering for 24 minutes. However, flying at an optimum speed, its aerodynamic design enables a 27-minute airborne flight. When empty, restoring full charge takes approximately one hour. Based on this, you might find it prudent investing in extra batteries for long flying sessions.
Flight modes
Drones often come with common flight modes to make your flying experience interesting. For DJI Mavic Pro Quadcopter Drone, it has the same flight modes as other top-notch DJI models plus other extra modes. Some of the modes include the Point of Interest mode which sets Mavic to orbit a specific point in space, Waypoints mode where the drone repeats flights along a present path, Follow Me Mode for the drone to follow your movements and Course Lock and Home Lock mode which adjusts how the device responds to joystick control.
The new additional modes that aren't present in other Phantom 4 drones are the Terrain Follow and Gesture Modes. With the Terrain Follow, the drone uses a downward vision system to maintain a given distance from the ground. This is a fantastic feature, especially when filming over a terrain with varied elevation. On the other hand, Gesture mode allows you to set up or snap a selfie by waving your hand and making a picture frame shape with your hands as you stand in front of the camera. This feature makes it possible for DJI Mavic Pro Quadcopter Drone to take selfies without control.
Pros of DJI Mavic Pro Quadcopter Drone
The benefits of DJI Mavic Pro Quadcopter Drone include:
It is brilliantly portable
Has numerous smart features and modes
Offers a decent flight time of up to 27 minutes
Provides nice 4K footage and 12MP photos
Is compact, with foldable design for easy transportation
Is equipped with a front collision detection system
Has automated take-off and landing
Has a rotating camera offering both portrait and landscape shots.
Has an autopilot feature which offers effortless flight possibilities
Cons of DJI Mavic Pro Quadcopter Drone
DJI Mavic Pro Quadcopter Drone drawbacks include:
The images may suffer some little low light
It is quite pricey
Its lightweight nature may be affected by strong winds
Cameras can be crooked on longer flights
Should you buy the DJI Mavic Pro Quadcopter Drone?
Purchasing the DJI Mavic Pro Quadcopter Drone is an absolute yes. It is a tiny flying camera with excellent battery size. Its small and compact nature doesn't compromise on the flying agility, stability, image quality and other exceptional features that come with this drone. It is perfect for quality photography and videography shoots. It is certainly a drone that does everything.
Conclusion
Professional videographers, photographers as well as amateur hobbyist should try the DJI Mavic Pro Quadcopter Drone. It is certainly the best drone that offers value for your money. With features ranging from its unparalleled flying abilities, travel-friendly design and 4K enabled camera, consider this a perfect drone for flying at home or take on the road.
Comparingly, high power, high speed and great stability in medium and high winds can be dealt with by Phantom. However, if portability is your primary concern, no drone comes close to the DJI Mavic Pro Quadcopter Drone.